GBBO's fail-proof recipe of a dozen wannabe bakers, a big white tent, a sprinkling of Paul Hollywood and Mary Berry and – of course – a healthy dollop of innuendo from Mel and Sue is sure to keep us entertained over the next ten weeks. Last night's episode kicked off the series with Cake Week – Madeira, Walnut and Black Forest, to be precise – but how did the contestants get on? (Warning: Spoiler Alert!)
Sandy
Sandy, a child welfare officer from Bradford, wins our award for 'quote of the night': "I'm quite random. I can be baking a cake and you can have a meat pie by the time I'm finished." Could her dry sense of humour mean that Mel and Sue have met their match? Her baking certainly impressed, especially the swirled macaron base of her Black Forest Gateau.
Flora
Is Flora this year's Martha? Aged 19, she's 2015's youngest contestant, but encountered a near-disaster when she forgot to switch the oven on (she's used to using an Aga at home which is on all the time, apparently). However, all was not lost – her blood orange and almond Madeira Cake went down well, as did her spectacular, immaculate (but enormous) Black Forest Gateau. We don't think we'll be trying to replicate that one at home any time soon!
Tamal
Tamal is an anaesthetist, so it's no surprise that he used a syringe to inject his Madeira with rosewater syrup. We wonder if he'll bring out any other surgical equipment as the series progresses? The icing for his Walnut Cake was grainy, but his "tempered chocolate collar" was rather impressive and Paul loved it. Could Tamal be one to watch?
Ian
Ian, a travel photographer, has been baking for six years after he decided his children should be presented with a fresh loaf of bread every morning (lucky them!). However, maybe bread is where Ian will come into his own; the texture of his coconut Madeira Cake was described as "chewing wallpaper paste" by Paul and he didn't chop his walnuts finely enough (according to Paul, they need to be chopped into eighths – not that he's specific).
Alvin
A nurse originally from the Philippines, the figs he put in his Madeira Cake unfortunately sank to bottom (Paul did warn him!). During the technical challenge, he appeared to be having a disaster – it took him three attempts to make caramel, and he ended up with sloping sponges due to wonky oven shelves. After smothering the whole thing in the meringue icing, though, incredibly he went on to finish second in the round. Alvin's ultra-modern-looking Black Forest Gateau also impressed, with its stunning shards of chocolate and gold leaf flickering on the top.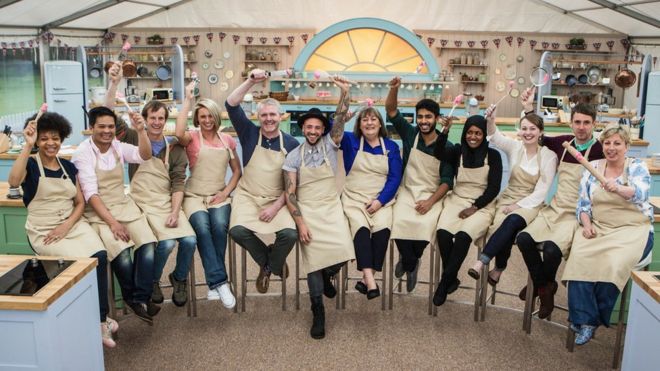 © BBC
Stu
Hipster musician Stu (otherwise known as 'the one in the hat') tried to impress with his Caribbean-inspired 'Marley Madeira Cake', but sadly seemed to get the flavours all wrong – his glaze caramelised and his sponge was described as "bitter". His Walnut Cake only had one lonely nut in the middle of it, and the beetroot he added to his Black Forest Gateau wasn't a good idea, either. Unfortunately, then, we said goodbye to the cheeky chappy at the end of the show.
Mat
A man after our own hearts, firefighter Mat put gin and tonic in his Madeira Cake, although Mary said it didn't have enough gin for her taste buds (go Mary!). We thought the use of tinned cherries in his Black Forest Gateau might have gone down like a lead balloon with Mary (anyone remember last year when Enwezor used store-bought fondant?), but actually they just honed-in on his divine praline. Pretty impressive seeing as he only started baking three years ago.
Ugne
The vegan Lithuanian bodybuilder seemed cheerfully confident when it came to the signature bake and made a lemon and thyme Madeira Cake. She then sailed through the technical challenge so calmly, she even found time to create a sugar nest to put on the top – much to the panic-stricken eyes of fellow contestants who watched her delicately wrap the caramel around a rolling pin. Unsurprisingly, she won the challenge.
Marie
Marie said she was entered into the competition by her daughter, and her love of baking began after moving to Paris and being surrounded by all the French Patisseries. Marie instilled a sense of confidence in us from the off; she seemed to know her stuff. Her Madeira cake was "perfect", she came third in the Walnut Cake challenge and her spectacular Black Forest Gateau, complete with intricate trees on the top, meant that she was deservedly crowned this week's Star Baker.
Nadiya
Originally from Bangladesh, Nadiya was spurred on to bake by her Home Economics teacher. She impressed Mary from the start with the "nice crack" on her Madeira Cake – and her candied lemon passed the Mary Berry Plate Test: the lemon is dropped onto a saucer from a height to see if it makes a noise (it should). It also contained the perfect amount of cardamom. Sadly, Nadiya came last in the Walnut Cake challenge – she only frosted the top (which was grainy) – but won it back with her minimalist Black Forest Gateau, which had a beautiful flavour.
Dorret
Sadly for Dorret, she had a literal and metaphorical meltdown with her Black Forest Gateau – her mousse didn't set and she was in tears as her showstopping cake looked like a "mudslide." Paul, stating the obvious, said: "It looks a bit of a mess." Incredibly, though, Dorret was saved due to her two better rounds.
Paul
With the same name and same beard, Mel and Sue played on the fact that Paul from Swansea was Paul H's doppelgänger (we couldn't see it, personally). But the prison governor's Madeira Cake was said to be over-baked and the icing on his Walnut Cake was too granular. His Black Forest Gateau, however, went down well with the judges and he lives to fight another day.
So, what do you make of this year's contestants? Do you have a clear winner in mind at this early stage? Next week, the remaining eleven take on biscuits… Watch this space!
If you've been inspired to get baking then take a look at our selection of Cakes and Baking Cookbooks, including books by Mary Berry and Paul Hollywood, plus a range of official Great British Bake Off books.